DK's Autumn Knight
(Others available For Sale or Lease)


FOR SALE!


2008, Registered half Welsh, AQPA, IQPA, ASPR eligible.
Bay 8 year old, 14.1+H gelding, Andy has been quietly started, walk, trot, canter & jumping small fences and free lunging over walls, lattice and verticals with great form.
His older siblings are currently on the Rated Show Circuit, several qualified their rider for the Pony Hunter Finals held back East. Another is packing a timid child around the walk/trot divisions also great lesson/show mounts. Siblings have gone on to compete in Dressage and Cross Country as well! You won't go wrong with such a talented young pony. More picts and video available.
Andy is small enough for a child, but tall enough for an adult. He is well suited for an advanced Beginner rider with help from a trainer or knowledgeable horse person.
https://youtu.be/Uk91WjvXfi4
https://youtu.be/Fk5XL4uDpoU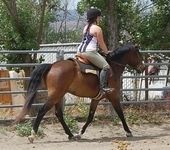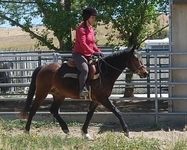 Top & bottom left image: Teen student schooling. Bottom right, adult student schooling.